Cardio complex ECG Dongle:
USB gadget, mobile application and cloud service «CardioCloud»
Your own cardio complex at home, at work, on vacation! It fits in the palm of your hand and gives you the opportunity for a few minutes to get the information on the work of the heart, heart rate and stress levels every day at any time
THE COMPLEX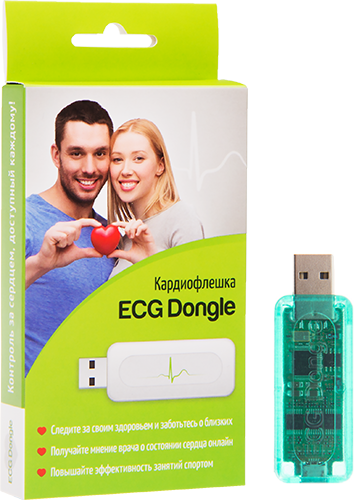 Free mobile app ECG Dongle
Miniature device for rapid monitoring of the condition of the cardiovascular system
made in the form of a usual USB flash drive of just 9 grams
captures data on heart work corresponding 6 standard leads
includes four electrodes that are easy to place on your own body
connects to an Android device with a standard OTG-cable
connects to an iOS device with a special adapter
does not have its own battery, runs on battery power of your smartphone or tablet
with detailed instructions included
is not a product of medical technology
Имеются противопоказания. Перед применением
необходимо ознакомиться с инструкцией по применению.
Free mobile app ECG Dongle
You download the app from Google Play or App Store, install it on the smartphone or tablet just for 1 minute and it is immediately ready to work


displays the real-time heart dynamics

displays the heart rate and the level of tension (stress)

allows you to save the measurements and to send them to the cloud service «CardioCloud» in order to obtain the opinion of a cardiologist

provides the ability to save the research data as PDF, MIT-BIH or EDF format for sending to your doctor (for Android 4.4 and above)
CardioCloud
The cloud service is designed for the interaction between ECG Dongle device users and expert cardiologists of «CardioCloud». The Service allows you to get the opinion of a cardiologist on the condition of your cardiovascular system based on the information obtained by the user with the USB gadget and the mobile application
does not require personal information, ensuring the anonymity of treatment
provides the ability to export the measurements in PDF format for saving and printing
payment is made by credit card, electronic money or through mobile shopping apps
doctor's opinion is to be sent to the user's email
allows to send data directly to your doctor email
is not a medical service
Service price: 390 RUB
Video presentation of the cardio complex
For external doctor
Are you a doctor? Do your patients use the ECG Dongle?
Do you want to receive the data of your patients via e-mail?
Complete registration as an external doctor, obtain a unique ID and give it to your patients to setup in the mobile application when sending requests!
Service price: free (until 31 December 2016)
Contact information


Dubna
4 Ul. Programmistov,
Dubna, Russian Federation
Tel: +7 (499) 608-01-88